The Actiris Language Cheques are here to help you :

LOOKING FOR A JOB IN BRUSSELS, BUT YOU DO NOT SPEAK FRENCH OR DUTCH ?


YOU HAVE THE OPPORTUNITY OF FREE FRENCH COURSES AT AMIRA - AS PART OF YOUR HELP FROM ACTIRIS:


Whatever language you speak, job-seekers can register with Actiris and ask to meet counsellor for advice on language training, either with the help of a local friend or Actiris will provide a translator.
Language training via Actiris is completely free for the students. You'll need to take an online language test. Your Actiris counsellor can book you in the language group corresponding to your level.

Actiris is the official Brussels Office for helping Job-Seekers find work and training.

Amira Language School has been a partner for 'chèques langues' since the project started over 20 years ago.

Actiris Info video in various languages at https://www.actiris.brussels/en/citizens/

Actiris Offices : https://www.actiris.brussels/fr/citoyens/nos-antennes/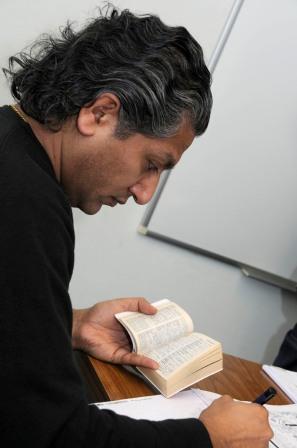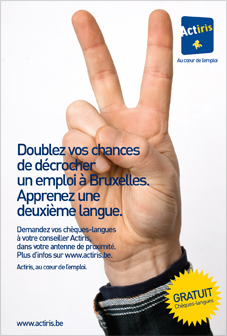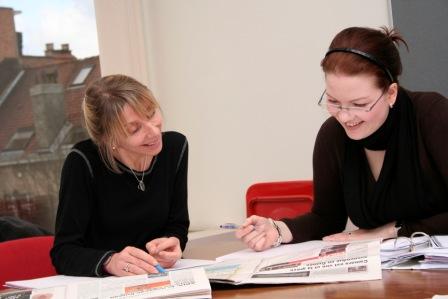 Actiris Partner Information : Amira Language School asbl
Amira Language School asbl offers 'language education'.
Students can register for six language courses including
French, Dutch and English
. The highly qualified staff ensures a smooth organisation and professional pedagogical guidance. They recruit and supervise the trainers, plan the courses and welcome the students. Based on the analysis of your needs, they propose an adapted teaching module and follow your pedagogical progress until the final evaluation.
Amira Language School asbl is located in the Ma Campagne district of Brussels
. It was founded in 1983 and has since become one of the most renowned language schools in Brussels. In 1995 it was awarded the ISO9001 standard, making it a pioneer in the field of quality management. The school was also awarded the Q*For certificate several times and joined the EFQM system in 2015.
At Amira Language School asbl Integration comes first
The school has been working with the Actiris language cheques system since the start,
in May 2002.
This means that the school has a lot of experience with Actiris students and their specific wishes.
Amira Language School asbl has a particular policy of respect and welcome for everyone
. We appreciate all cultures and strive for smooth integration. In this school you will always be able to learn because the teaching materials are clearly presented and carefully adapted to the levels of the students.
Language Groups in French, English and Dutch : On the Way to Work
(Transition Vers l'Emploi )

The courses in small groups for job seekers at Amira Language School asbl promote your language skills and increase the chances both of obtaining job interviews and finding a job. Through interactive exercises and group activities you will gain more self-confidence in the workplace.
The syllabus contains
clear summaries
of the learning material in each level. The subject matter is presented and reviwed in different ways, so that you will experience for yourself that you are
making real progress
. In each class you will gain and strengthen your motivation and confidence.
Your Actiris Counsellor will register you directly in French, English or Dutch Groups at Amira Language School asbl:
The training modules are of 60 hours.
20 sessions of 3 hours
Either 4 weeks Monday to Friday or 5 weeks excluding Wednesdays.
Times : Morning Groups 9 am to 12 noon / Afternoon Groups : 12.30 pm to 3.30 pm
The groups have 3 to 6 participants
From level A0 (absolute beginner) to B2 (independent user)
The experienced teachers have a master's degree in languages and teach their mother tongue
The pleasant classrooms are equipped with interactive screens and whiteboards
There is free wifi in the whole school and a kitchen with a coffee machine.
The emphasis is on being able to communicate more easily when looking for work
Language Cheques: Matching in French, Dutch or English
Jobseekers from Brussels who are offered a job offer or a first internship via Select Actiris or who are starting as self-employed have a better chance of succeeding if they follow free private language lessons in
French, Dutch or English
with 'Matching Cheques'
In a 'Matching Course', the student and coach decide the topics together. The content is literally 'matched' with the language requirements of the new job. In this way we make maximum use of the available teaching hours.
Students can bring their own material, such as work documents, with which to practise during the lessons. Every task of the job can be covered. The teaching material can be adapted and expanded. In such a course you prepare for the real-life scenarios of your workplace.
Based on the information about your job and your description of the work, the teacher will propose a 'course contract', a curriculum of content and the lesson structure .You will be are asked to sign it as a kind of moral commitment.
The
'Matching cheques' are 100% financed by Actiris.
Usually these are 2 cheques for 20 hours of training, 40 hours in total. The individual lessons may be taken during the first six months of the new job of after registering as self-employed. If an employer recruits several new employees at the same time, group courses may also be organized in the company.
How to register for individual Matching lessons at Amira Language School:

You make an appointment in advance with the Amira Language School asbl.
You bring the results of the Actiris language test and the 'Matching Cheques' to the appointment.
You can register for lessons in French, Dutch or English as defined on your cheques.

Do not wait to register ! You may lose (partly) the right to benefit from your cheques.
The school is required to open both cheques in the Actiris extranet within 30 days of their issue date.
At the limit you have 30 days to start and then a total of 6 months to finish.
If you take 2 lessons of 2 hours per week, you will need at least 10 weeks for 40 hours - effectively 3 months minimum.
It is best to start the lessons as soon as possible after receiving the cheques.
Amira Language School asbl, Centre Ma Campagne, 32 Avenue Brugmann, 1060 Brussels.
Registration Times:
Monday - Thursday 9h => 19h / Friday 9h => 18h
Contact details for registrations at Amira Language School asbl:
Amira's Pedagogical team
Telephone: 02/640 68 50
GSM / WhatsApp: 0498/11 60 00
E-mail: info@amira.be
Visit